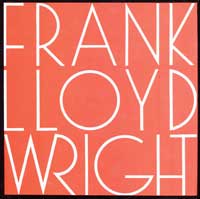 THE DRIPPING SPRINGS USONIAN
A chronicle of our "adventure" building a
Frank Lloyd Wright inspired Usonian home
in the beautiful Hill Country of Texas.

Bercy Chen Studio Concept
---
My Sketch.

---
A chronicle of our "adventure" building a
Frank Lloyd Wright inspired Usonian home
in the beautiful Texas' Hill Country.
---
2012 • 2014 • 2015 • 2016 • 2017
2018 • 2019 • 2020 • 2021
---
2021
---
29 January, 2021

Beginning to look like a house. View of south side.
They are going to have to trim the tree.


Red concrete front steps.


---
10 January, 2021

It snowed in Dripping Springs and
a neighbor-to-be took these photos for us.
View downhill to barn.
Detail showing "tower" and "chimney"
with some "photoshop" help.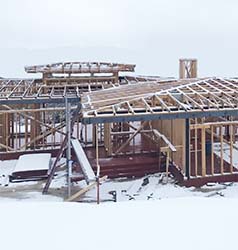 ---
---
2020
28 December, 2020

As 2020 comes to an end
we are beginning to have something
that looks like a house.
Steel being welded to roof structure.
You can see the low profile of the roof.

---
November, 2020

Looking down the "hallway" toward the living room.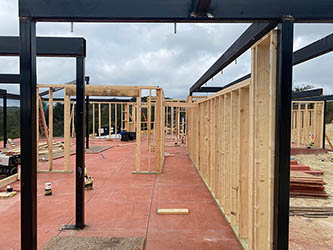 You can see the red concrete floor.



---
10 October, 2020

New photos from architect. All steel beams in place.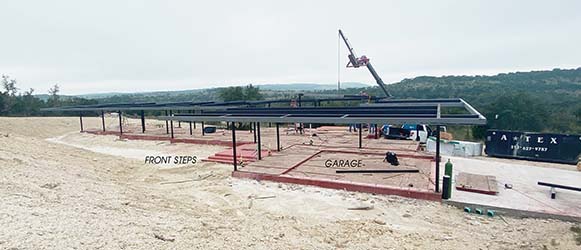 Front steps marked in center of photo. Garage wall in front of you,



Edge of eaves overhang on North side.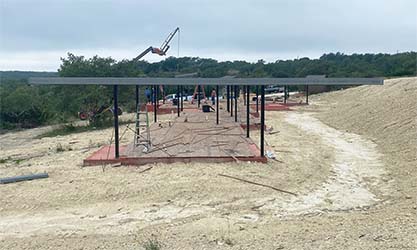 East end of house. Master Suite.



---
18 September, 2020

New photos from architect. More steel beams in place.
Beginning to look like something.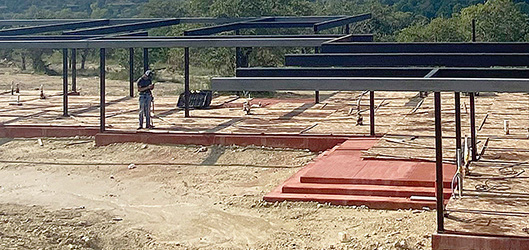 Front steps on right. Worker at left givs proportions.



Looking from front steps toward bedroom suite of house.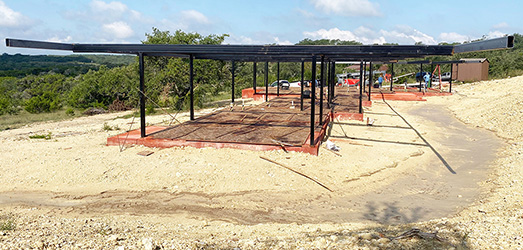 View from Master Suite end of house. See beams for broad eaves.



Looking from hillside north of house.



---
8 August, 2020

Concrete has been scored. Steel beams in place.
Plywood covers the floor to protect it during contruction.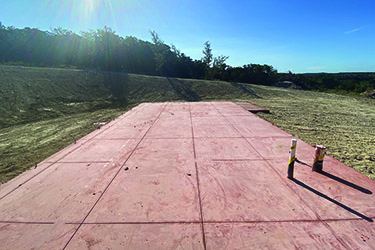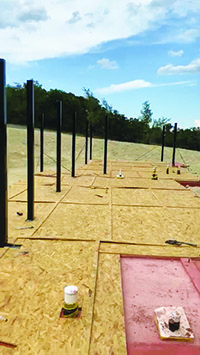 ---
10 July, 2020

Red concrete foundation/floor has been poured.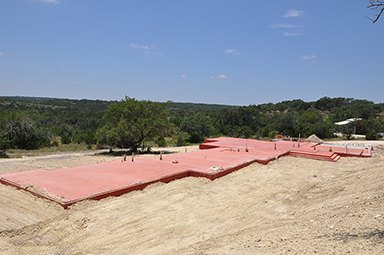 ---
26 March, 2020

Layout of the house,
forms created in preparation for
concrete foundation.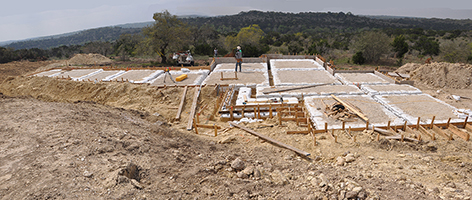 ---
Papers signed. Money has changed hands.
Grading is to start on Monday, February 24.

Met with Bercy Chen's representative last week and
went over the construction schedule. It is going to happen.
Time for me to get busy picking out faucets, fixtures,
sinks, countertops, tile, etc.

Watch this space. I hope to have some photos of the progress soon.


---
2019
Finally in December of 2019 we have gotten a green light
from a bank to have a construction loan. Seems to be a problem
getting a loan if you are retired no matter how much colateral
you have. Anyway, at last we are to schedule a closing
after Christmas. The earth will move when we sign, I know.


Ever since June of 2018 we have been seeking financing.
After all we had been through we decided it would be better
to take out a mortgage and a construction loan
than pay cash for everything.

Never did we understand how difficult
that might be for two retirees.


---
2018

Monday, August 13, 2018

So far we have a barn, a road to the site,
electricity, a water well and
a septic system which runs to the barn.
I now have a half bath in the barn and do not have to
drive 20 minutes for a bathroom break.

But no house.

We have a neighbor who is a Hydrologist,
a water engineer. We visited with him about what the architects
and their engineers were saying. He gave us other ideas.
So we hired our own hydrologist. He surveyed the land
and said, "if you rotate the house 10 degrees you don't need
a retaining wall. The architects differed. Our engineer explained.
A new drainage system was designed. New costs.

Now we are two retirees with lots of assests
looking for financing of a one-of-a-kind house.

---
2017

Things were moving forward until Hurricane Harvey.
Our house in Cypress nearly flooded.
The garage and the enclosed patio got some water
in them but the house itself did not.
Thank goodness.

We had put furniture up on bricks and had moved everything out
of low shelves. (I am still trying to find things.)
Nothing can ever be stored in a cardboard box again.

After Harvey my concern turned to the water flow
down our hillside. We had already gone through extensive
discussions about building a retaining wall. The price was
out of this world and it was ugly. I did not want it.

---
2016


In the meantime we had been working out the plans with
Bercy Chen Studio, LLP.
Trying to keep the house under 2500 square feet was hard.
We wanted 3 bedrooms: a master suite, a guest bedroom
and the third that would double as William's office.

Part of the FLW Usonian ideal is a red concrete floor.
Finding someone who understood
what Integral Color meant was difficult.
The color had to be in the concrete, not on top.
Finding someone who could do it. Hard.
Finally we found a company.

Easier was finding someone who could supply 2' wide
floor to ceiling windows and matching french doors.
Andersen fit the bill. They could also supply
1' x 4' clerestory windows that rim the hallway
on the north side, the public side of the house.

It was add here, take-away there.
What I have to have vs.
what we can afford.

Everything had to be on the same level.
No stairs inside of the house.
Every doorway has to be 36" wide.
I don't want to have to move out
because one of us is in a wheelchair.

So, in August , 2016, we finally got our own road.
August 30, 2016, we meet with PEC
(Perdernales Elecric Company)
to get poles and electricity hooked up.
Bee Caves Water Well Drilling and
a septic company both came out to the site.
And the rep for Equine Custom Barns.
My critters will get a new custom barn. Real progress.


---

THE BARN

We have a barn which we organized.
They put it up in 2 days once the foundation was poured.
Yes, I have a concrete hallway and tack room floor.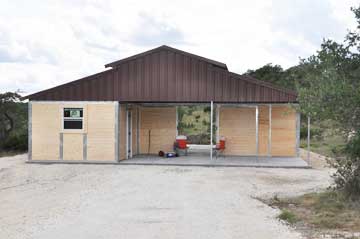 We finished out the tackroom, added a ceiling
and a half bath with a sink and toilet.
Nice and cozy.


---

The idea was to get everything worked out on paper
before construction started. That way we wouldn't be
knocking out a wall that had just been built.
But dealing with engineers and architects on paper
has been just as bad.

You make a change from their idea and they have to
re-do everything again, call out the structural engineers
and re-survey the property, all of which the owner has to pay for.

Their answer, of course, is that we are novices at this.
How many houses does one build in a lifetime?



---
2015

In July, 2015 we went to Bercy Chen Studio,
the firm that had started the Lakeway Usonian
and signed a contract to design our Usonian.

This has been a learning experience.
Building on raw land is not like building in town.
Though we have a Property Owners Association (POA)
and a gate and a hardtop road to our property,
we had no road to our building site.

In order to get an address we needed a road.
In order to get electricity brought in
(from across the road) we needed our own road.
In order to get the engineers' report
we needed our own road.


---
2014
After 2-1/2 years of looking and many exhausted realtors
in November of 2014 we found the spot.

We had driven out to Fredericksburg
just for fun.
We looked at the galleries
and had some German food
and found another real estate agent
who took us to see
a propery in Las Colinas Ranch, a POA
just west of Dripping Springs.

Here it was: the piece of property I had been looking for -
a property entered from above.
The first thing I noticed was the quiet;
no road noise just birds and the wind.
Then we saw the view.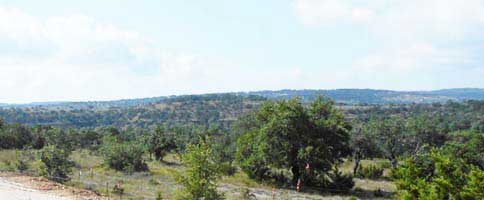 The idea of the Usonian was having a public side and
the view on the private side
Finally found it in Las Colinas Ranch.

Along the way we had found a builder who was an admirer
of Frank Lloyd Wright. He traveled all over with us
looking at property but when we got down to the actual
planning he backed out. I think building a Usonian is
more difficult than we thought.

So, I turned to Mr. Sutton.
He suggested that I had the foremost expert on FLLW
design right there at the Unversity of Texas.
That seemed to go well until we
got down to the nitty gritty and
suddenly he had
more to do elsewhere.
---
2012 -2013

In June, 2012, after looking over our present situation,
we decided that we should consider moving from Cypress
to where we both would rather live: Austin.
Being UT grads we both wanted to be nearer the University.
With our "unexpected windfalls" we might be able to
build my dream home: a Frank Lloyd Wright Usonian.
I started looking for an architect or builder
who could help us design and build a
Frank Lloyd Wright Usonian.
Easier said than done.

The ranch style house I grew up in
was derived from Wright's ground hugging design.
My neighborhood was filled with long low houses,
one room wide with a hall down the perimeter.
That was the basic Usonian design.
The first Jacob's House was my inspiration.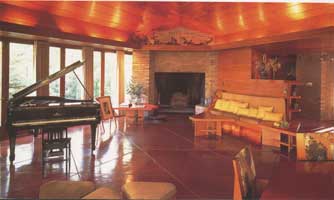 The Palmer House living room has a look
I hope to re-create.
I have inherited a baby grand piano.
We will have a red concrete floor
and decking with indirect lighting.

But first we needed to find the right piece of land.
To follow the design of the Wright Usonian -
the road side is the "public" side. No picture windows.
Only clerestory windows (1' x 4') under the eaves.
The private side is toward the view with floor to ceiling glass.
In order to replicate this design the property needed to be
approached from above. The view had to be over the hill.
Having the road to the property in the view
defeats the purpose of the design.

In fall of 2012 we found a real estate agent
and started looking at raw land.
We wanted to stay near Austin,
somewhere on the west side.

It would be embarrassing to go into the details
of all the agents we went through.
I looked through the Internet for a builder
who understood Frank Lloyd Wright design.
As much as people admire FLLW it is not a design
that you pick off the shelf.
I soon understood that we would have to
hire an architect.

I found a website called the Usonian Red House.
Someone actually building a Usonian,
Thomas (Tim) Sutton, an architect in Ohio.
Mr. Sutton was kind enough to correspond with me.
Over and over he answered my questions and
freely shared with me his advice.
He actually sent me a plan that he drew himself.
I will always cherish his hand drawn plan.
I began to see how difficult this would be.

At the same time I came across a website
for the "Lakeway Usonian".
It was not going well.
The owner was not happy.
I do not know how it turned out. *

But I am getting ahead of myself.

Fall, 2012, we met with our first realtor and
started looking for raw land.
I drew a circle from the west side
of Austin using I-35 as the center line.
I did not want to go as far west
as Fredericksburg.

It was the time of the severe drought.
Lake Travis was a shadow of its former self.
Never had I seen the water line so low.
Lake front property was cheap
but I did not want a lake view.
I wanted a hill view.
I have lived on flat ground
(the Houston area) all of my life.
The real estate agents took me at my word.
We saw so many drop offs,
I was afraid to get out of the car.

---
The proud owners of this home will be: William & Olva Pharo
The Architect of record: Bercy Chen Studio, Austin, TX
To comment or ask a question: opharo@texhorseman.com

Last Update: 24 April, 2021

---


For more things of interest to you: